About your host :
Mark Thomas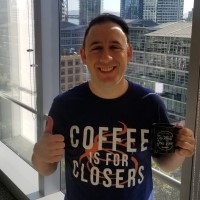 Mark is the Co-Founder & CEO of ZenSports, which is a mobile peer-to-peer sports betting marketplace where anyone can create and accept sports bets with anyone else in the world, without the need for a centralized bookmaker. Previously, he was the Co-Founder & CEO of Reesio, a startup within real estate technology that was acquired by Realtor.com in 2015. Mark is a die-hard Green Bay Packers, Milwaukee Bucks, Milwaukee Brewers, and San Jose Sharks fan.
About the Podcast
Ball and Chain – The Sports Betting and Crypto Podcast
In Ball and Chain, we take an in-depth look at everything related to sports betting and cryptocurrencies. Join us every two weeks to hear about sports betting strategies, new technologies, industry news, and other topics.
This podcast is brought to you by ZenSports, the peer-to-peer mobile sports-betting app. Download it today for iOS or Android at www.zensports.com