Hello ZenSportsians!
As part of the 2021 Pigeon Classic, ZenSports will be hosting our very first Chess tournament on November 14th at 2 PM EST! We will be using the open-source Lichess engine to run a single-elimination, bracket-style tournament on our app!
The event will feature $500 in USDT distributed on ZenSports and a few NFTs from our partners across the blockchain ecosystem!
So, let's get into the details!
Tournament Rules
The tournament will follow the rules outlined in their entirety at the bottom of this post. These rules are for events using the Lichess engine. As mentioned in the ruleset, players' accounts must be in good standing, having not been flagged for cheating in the prior six months. 
The tournament series will consist of 2 matches, with contestants switching sides each match. Lichess ranking must be below 2700 with permission from tournament organizer. All matches are played with a +1 second increment. 
For each tournament series, players will begin by playing two 5-minute games of blitz chess. If either play has won both matches or won one and drawn the other, they will advance.
If neither player has an advantage after the first series, they will play another series, this time with a 3-minute game clock. If neither player advances following this series, the players will continue with a new series using a 1-minute game clock. This minute format will continue until one player takes advantage and moves on to the next round. 
As for match challenges, the player on the lower side of the ZenSports bracket will send out challenge requests for the entirety of the series. In the first match of a series, the player sending the challenge will play as white. In the second match, they will play as black. Players will send challenges using the "play a friend" feature on Lichess. 
How to Register 
To register for the tournament, applicants must first fill out this Google Form, with links to their lichess.com account and information on finding them on Discord. Players will be accepted as they apply and must be on our server to be accepted, so apply early!
Once accepted, we will ask you to register for the tournament on the ZenSports app. When you do so, make sure to edit your profile to include a profile picture, background image and have your display name match your Lichess username. 
To register, download the ZenSports app via our website. Once you have registered, head to "more" -> "play" and click on the "Pigeon Classic Chess" tournament and click register! Easy as pie! Players are required to make a minimum donation of $1 to participate.
Player Payouts and Prizes
ZenSports will send players placing in the top 8 USDT on the ZenSports app. 
ZenSports will reveal NFT Prizes closer to the tournament date on our Discord!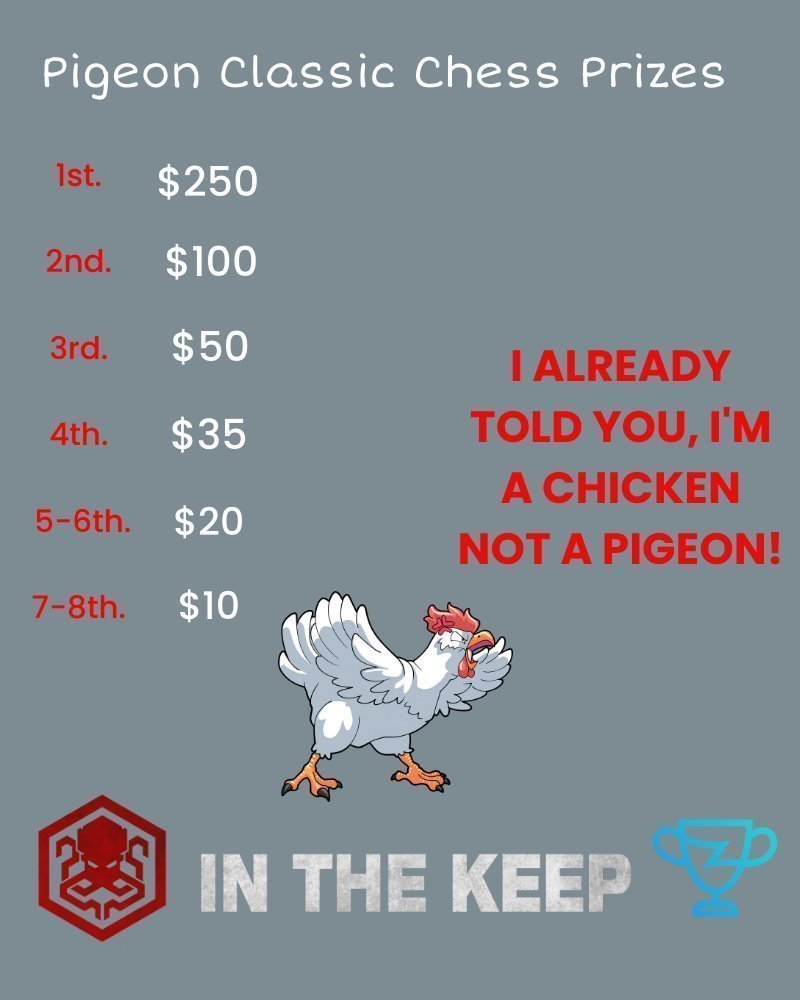 Player Payouts and KYC Verification
Players who finish in the top 16 will be eligible to win their crypto prize as USDT.
Immediately after the tournament is over, ZenSports will credit players' accounts with their tournament winnings, but players must complete KYC before they are allowed to withdraw.
If you want to win even more money from playing in our tournaments, make sure to check out our SPORTS Staking Rewards Program. The program rewards you for simply holding SPORTS tokens in your ZenSports account and playing in tournaments!
We understand that KYC is a hassle, but it is required. ZenSports is a money servicing business and faces many of the same regulatory hurdles as banks do!
For now, players should look to get verified using either PrimeTrust on the ZenSports app itself or through a third-party service: Yoti.
Please read the following rules and restrictions:
All prizes will be paid as credits to customers' ZenSports accounts (in USD, Bitcoin, ICX, or SPORTS).
All withdrawal requests must be submitted directly within the ZenSports app, and all customers must go through KYC/AML verification and meet ZenSports' Terms & Conditions for submitting withdrawal requests.
ZenSports does NOT offer third-party payment options such as PayPal, Venmo, etc.
Players located in the following countries are ineligible for winning prize money.
Full Rules
All games must be played as rated games on the Lichess website. 

Lichess and their anti-cheat detection platform are the authorities for ensuring fair play in ZenSports events. All disputes and appeals with regards to fair play will be between the player and the lichess organization.

Lichess accounts must be in good standing before the start of the event. Players may not participate with an account that has been flagged with a "Violation of Lichess Terms of Service" banner.

Lichess accounts must remain open for at least seven days after the conclusion of the event. If an account is closed within this timeframe, that player shall be disqualified from the event.

Lichess accounts must remain in good standing for at least 72 hours after the conclusion of the event. If a player has their lichess account flagged with a "Violation of Lichess Terms of Service" banner, this is considered detection of cheating unless advised otherwise.

Players who are detected of cheating will be notified immediately and have 72 hours to have an official lichess representative e-mail the tournament director confirming that cheating did not occur in the event. If this e-mail confirmation from lichess is not received, that player shall be disqualified from the event.

Players who are disqualified due to the violations above shall receive a two-month ban from ZenSports events for the first offense. Players shall receive a one-year ban from ZenSports events for the second offense.
Thanks for reading!